Millie Corless, Data Analyst, Registry Trust
Wednesday, 2nd February 2022
Financial diligence of different age groups: Does checking credit scores more often reduce outstanding CCJs?
A recent report by Lowell highlighted interesting age-related statistics about checking credit scores, and awareness of the factors which impact credit ratings. The research found that almost one third of 16-24 year-olds who knew how to check their credit score checked it multiple times each month, compared to just 11% of 25-44 year olds.
The credit reference agencies use Registry Trust data from the Register of Judgments, Orders and Fines which we maintain, to help determine credit scores based on previous ability to repay debts. So this area of enquiry is of great interest to us as one of our core aims is to educate and empower consumers on keeping on top of their financial health by being aware of and knowing how to effectively deal with outstanding county court judgment (CCJ) debts on the Register. The reason this is so important to overall financial wellbeing is that an outstanding CCJ can then impact access to affordable credit, which can increase financially vulnerability and decrease financial resilience. In recent years, there has been a steady decrease in the number of judgments on the Register that are being marked as 'satisfied', suggesting both an inability to pay and a potential lack of awareness about the importance of settling the debt and then providing the court with proof of payment. We therefore predict that the increased checking of credit scores is likely to relate to reduced debt for that age group and are encouraged by a trend in younger people doing so more often. Let's see what the data says...
Analysis of unpaid judgments with a registered date-of-birth shows defendants aged 16-24 are significantly less likely to have a judgment than any other age category analysed. Over the past three years, just 3% of the total CCJs with recorded date-of-births were registered for individuals aged 16-24; a total of 39,749 CCJs.
This percentage increased sharply to 31% of total CCJs for defendants aged 25-34, which totalled 427,894 CCJs. CCJs further increased for individuals aged 35-44, which peaked at 450,705 CCJs (32% of the total number).
CCJs steadily decreased to 319,797 for 45-54 year olds, and 163,590 for 55-64 year olds, totalling 23% and 12% of the total number of CCJs respectively.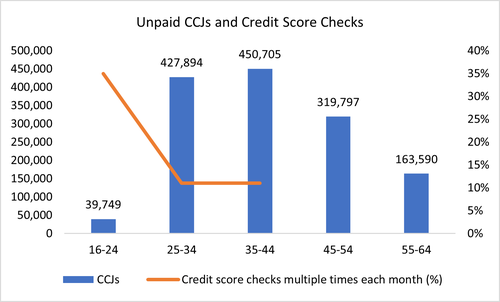 At a first glance it seems our prediction is correct, that as a larger number of 16-24 year olds check their credit score multiple times each month, there are fewer cases of outstanding CCJ debt. As the number of individuals regularly checking their credit score reduces from 35% for 16-24 year olds, to 11% for 25-34 and 35-44 year olds, CCJs increase significantly.
However, we must exercise caution when analysing the age bracket 16-24, as this low number of CCJs may be due to a proportion of these individuals being unable borrow money in the first place. This could explain the significant increase in cases of debt for 25-34 year olds, at which point more individuals have reached the appropriate age for borrowing money, unfortunately sometimes resulting in a CCJ due to inability to pay.
With the outlook for the financially vulnerable looking bleak for 2022, it's more important than ever that consumers are aware of and able to deal with CCJs effectively and we're once again calling for changes to the process to make it fairer and more transparent. Read more in our recent report and see our Talk Money Week blog and video for the basics.
Our public website TrustOnline allows anyone to check if they have a CCJ or other type of monetary judgment against them which they may not be aware of and features help topics about the CCJ process.
We also work with a range of organisations to utilise our data to help support those in debt. Find out more in our e-brochure here.
To keep up to date with the latest from Registry Trust, click here to subscribe to our monthly updates and/or follow us on Twitter and LinkedIn. You can also follow our public website TrustOnline on Facebook and LinkedIn for regular useful updates about CCJs, credit scores and more.