Millie Corless, Data Analyst, Registry Trust
Tuesday, 7th December 2021
Many campaigners raised concerns that the removal of the £20-per-week Universal Credit uplift would significantly tighten household finances for the most financially vulnerable through reduced income at a time when the cost of living, including energy prices, is rising. The Resolution Foundation predicted that 61% of Universal Credit users would struggle to keep up with repayments, while relative child poverty would increase to 400,000 in 2021-2022. Citizens Advice has now released research showing the impact this is already having on three million families. This research is deeply concerning, especially in the lead up to Christmas.
Registry Trust, the non-profit organisation which maintains the Register of Judgments, Orders, and Fines for the UK and Ireland, has an up-to-date picture of indebtedness at a regional level. We therefore expect this to be reflected in our monetary judgment data with an increase in the number of county court judgments (CCJs) due to a heightened inability to repay debts.
We have already explored this issue in recent blogs on 'the impact of the universal credit uplift on renting', the 'impact of the uplift on CCJs', and specific areas we expect to be most impacted by the reduced support. In this blog, however, I thought it would be interesting to estimate the amount of money that has been removed from Local Authorities based on Universal Credit use prior to the uplift, and the assumption that each user was subject to the £20-per-week reduction. The purpose of this analysis is to help predict where we are likely to see the most significant increase in financial vulnerability, including CCJ debt, so that targeted support can be provided.
The chart below details the Local Authorities with the highest and lowest amount of money removed from its household economy as a result of the Universal Credit reduction each week. Birmingham, due to its highest number of users, has had almost £3 million per week removed. Manchester follows second with £1.5 million removed per week, while Leeds follows third with £1.4 million removed per week. Bradford, Liverpool, Croydon, and County Durham have had between £1 million and £1.2 million removed from household finances each week.
Due to its particularly low number of Universal Credit users (and small population of just 2,224 residents), the Isle of Scilly has had just £2,340 removed each week.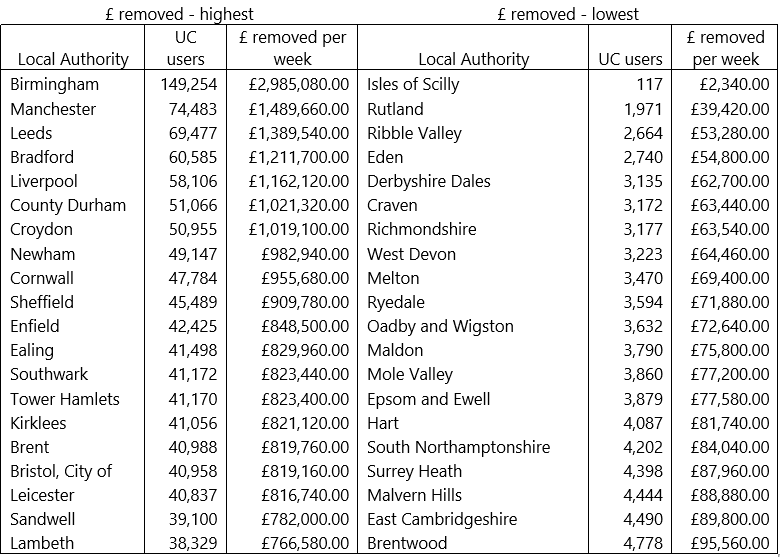 Although generally Local Authorities with low Universal Credit usage have low populations, this is not always the case. As discussed in a previous blog, Local Authorities such as Hartlepool, Hastings and Great Yarmouth have high rates of Universal Credit use compared to the size of their populations. These Local Authorities may see a decline in local spending negatively impacting the local economy over the festive period. They are also likely to be most hard hit by the increased financial vulnerability of their residents, creating issues which Local Authorities themselves usually have to provide services to fix.
As Registry Trust's Data Analyst, I'll be keeping a close eye on our judgment data in these regions to see what the impact of this is at the 'sharp end' of the debt cycle. With CCJ debt a strong indicator of serious financial difficulty, we urge Local Authorities, policy makers, and others to use our data to identify 'warning signs'. It's also important that those impacted by the current 'cost of living crisis' are educated on how to effectively deal with CCJs so they aren't left with a long term issue in accessing credit and other services which could exacerbate these problems further. We're calling for money advisers and others to help us get people talking about, understanding, and effectively dealing with CCJs – find out more here.
If you want to keep up to date with our latest blog posts, you can click here to subscribe to our monthly updates and/or follow us on Twitter and LinkedIn. You can also follow our public website TrustOnline on Facebook and LinkedIn for regular useful updates about CCJs, credit scores and more.